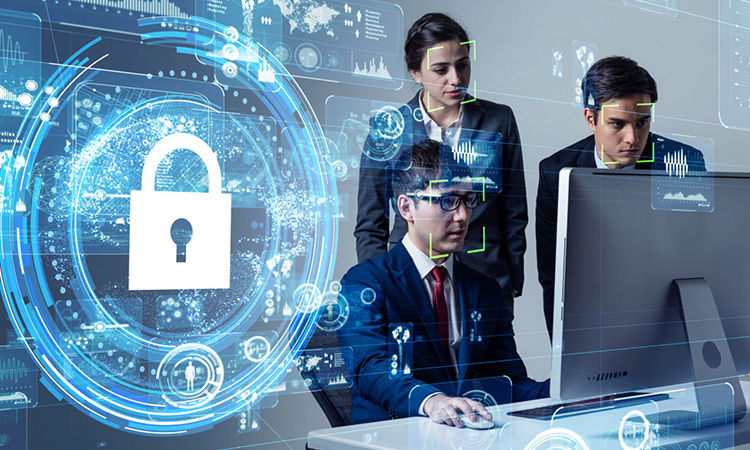 How Will AI Help Cybersecurity in 2022
Data from Cisco provides an estimate that there will be $15.4 million distributed denial-of-service (DDoS) attacks by the year 2023. A Gartner insight, on the other hand, projects that organizations will spend a whopping $170.4 billion for cybersecurity by the year 2022. At times when organizations are changing their modus operandi due to the Covid-19 pandemic, cybercriminals are increasing their attacks significantly. There has been a 29% increase in cyber-attacks in the year 2021 as cybercriminals are exploiting the company's remote work system. To protect themselves from cyberattacks and minimize risks, organizations are spending heavily on increasing their cybersecurity systems.
Why is cybersecurity becoming indispensable?
As per a market report from the U.S. Healthcare Cybersecurity, there is a minimum of one cybersecurity breach in around 90% of the healthcare establishments.


As per a TrendMicro report, in just six months of 2021, the banking industry experienced a significant increase of 1318% y-o-y in ransomware attacks.


As per the '9th annual cost of cybercrime study' from Accenture, 45% of the cyber crimes are targeted towards small businesses.


As per research from RiskIQ, the cost of cybercrime is $2.9 million per minute.


Cybercrime cost is estimated to be $10.5 trillion by the year 2025.


The IoT cyber-attacks will double by the year 2025.
Artificial Intelligence at Rescue
Advanced technologies challenge existing cybersecurity systems. Hence, cybersecurity professionals are now leveraging the potential of artificial intelligence to protect networks, systems, devices, programs, and data. Combining the robustness of artificial intelligence in the strategies of cybersecurity makes an effective and efficient defense system.
AI in cybersecurity offers the following benefits to organizations:
Detect Threats: When threat detection software gets combined with AI, it starts to think like a cybercriminal. Since AI has the ability to learn from past data, it uses its capabilities to identify new attacks and predict vulnerabilities that may occur in the future. AI can quickly and successfully identify threats, their types, and risk behavior that may lead to malicious code download or phishing attacks. It can also interrupt ongoing cybercrimes in just a few seconds.
Predict Breach Risk: Artificial intelligence also supports in determining the inventory of all IT assets. It helps in keeping accurate records in detail, such as users, devices, applications, different access levels granted to systems, etc. Now AI-based software predicts where and how these systems may get compromised in the future. Based on this information, plans can be made to prevent the breach risk. In short, AI offers insights based on perspectives, which enables organizations to improve the processes and controls to build cyber resilience in the company.
Protect Endpoints: Organizations are transforming and opting for work from home models which increased the number of devices working remotely. It is a cumbersome task to secure all these endpoints. Hence, enterprises are using artificial intelligence to secure these devices. According to Forbes, the future of monitoring remote security is artificial intelligence. AI protects systems by establishing certain basic behavioral patterns. The behavior is determined through training processes. If anything is suspicious, then AI will flag and report it to the concerned authority. Thus, helping cybersecurity professionals to act on time and prevent attacks.
Fight Bots: Bots constitute a big part of internet traffic. Although these bots are deployed for providing better service, they can be dangerous also. Since bots steal sensitive information and can easily bypass defense mechanisms, it is important to protect data from them. Manual methods to fight bots are not effective. Therefore, organizations are taking the help of artificial intelligence and machine learning to thoroughly understand website traffic. This understanding is further used to distinguish between bots and humans to protect sensitive data from bad bots.
Give Advanced Security Recommendations: Artificial intelligence can also be used to thoroughly understand cyber risks that users face on a daily basis. AI-backed advanced software detects cyber threats, offers solutions that identify cyber risks, and suggests how to manage them. Because of such solutions, internet users are now highly aware of the methods to mitigate future vulnerabilities of the systems.
Cybersecurity Education in the AI era
Artificial intelligence techniques will significantly enhance the existing cyber security systems. It will also help system managers to automate the process of analyzing, monitoring, and responding to cyber threats. However, as a cybersecurity professional, one must have an in-depth understanding of how AI is assisting cyber security efforts. There are multiple courses that offer AI education in cyber security. These specially designed courses are best suitable for experts who intend to leverage the potential of artificial intelligence to create unparalleled cyber security defense systems. If you are an AI professional who wants to understand cyber security or a cybersecurity professional who wants to know artificial intelligence, Artificial Intelligence for Cyber Security is your go-to course. These courses include fundamentals of cyber security, deep learning for security, web security, applications of deep learning, and many more.
Conclusion
Securing the development of artificial intelligence, protecting IoT infrastructure, developing security for web applications are becoming cumbersome tasks for Cyber experts. Traditional methods are becoming less effective for advanced cyber threats. Hence it is high time to learn, understand, and implement artificial intelligence techniques for cybersecurity purposes. Some of the most common models of machine learning such as k-nearest neighbors can be used for visualizing threats, whereas LSTM can be used for protecting endpoints. The application of AI in cybersecurity is huge and so is its potential. If AI is handled well, the world will witness the smooth functioning of systems that can successfully predict cyber threats and mitigate the same.